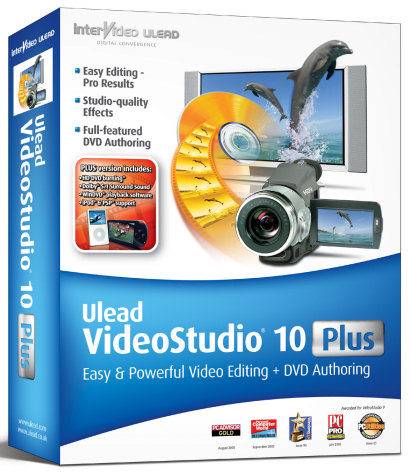 Ulead VideoStudio 10 Plus is a great editing suite for the absolute beginner. This version has many automatic features that make video editing much easier for the user.
If you're someone who wants to start editing videos for the very first time or want something with more effects and DVD authoring options, take a look at Ulead's Video-Studio 10 Plus.
The first thing worth mentioning is the shared program and viewer monitor. Whether you're viewing a video from the media library or something embedded in your timeline it shows up in the same monitor within the application. This can be confusing at times. You'll have to watch the window's display, which toggles between the two options, very closely.
Trimming clips and working within the timeline is really simple, which beginning users will appreciate since that is a great deal of what makes up the process of editing. The real fun for most beginners, however, is the over-the-top effects and transitions and, believe us, there are a ton.
The shear amount of transitions is quite amazing and many of them actually look good, although, there's a fair share of cheesy ones that you'll probably never use (and you shouldn't... trust us). There's also a strong set of video filters ranging from bizarre special effects to basic image adjustments.
This Software is tested on Windows Xp, not sure if it will work on vista and 7.

[You must be registered and logged in to see this link.]