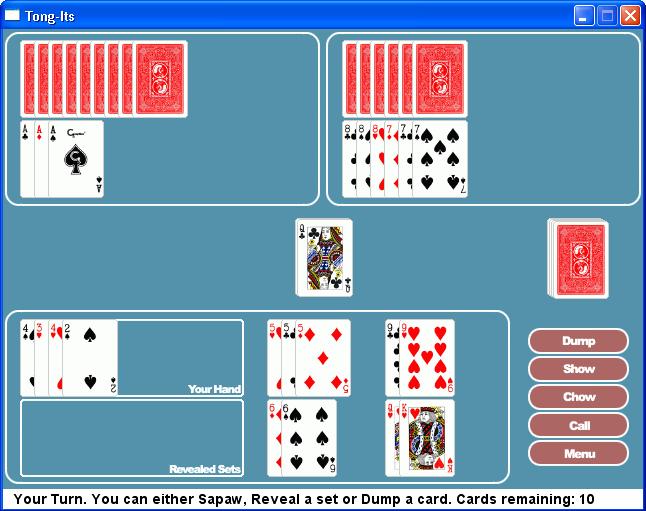 Tired of playing solitaire on your computer?
Try playing this card game. Tong-its is the most popular card game in the Philippines. It is being played everywhere, by people from all walks of life and various age and sexes. Its history and origin remains unknown, but the spirit of fun can be felt during the game, no pressures unlike other card games.
This has been the favorite past time amongst Filipinos for generations. During the start of the game, it may seem that players are helping one another, but in the end there is always a winner who gets to take home the pot.
Just like any card game, Tong-its has its rules to follow.
This is played by 3 players, the dealer deals out 12 cards to each player and an extra card for the for them for a total of 13 cards. The dealer will start first, by discarding 3 straight flush or trio (tapon), then the next player (the one to the right) can choose either to take the discarded cards or pick a card from the deck (bunot).
If the player chooses to pick the discarded cards then the player has to discard 3 cards with the card the player picked up. If the player chooses to pick a card from the deck, it will just complete the flush or trio and no need to open their cards. A player also has options to connect (sapaw) to any set of open cards, either by extending the straight flush or adding 1 card to a trio making it a 4 of a kind.
After that move a player has to discard one card to end the turn. One of the best strategies is to drop at least one completed cards to make it difficult for the other player to call a draw. There are also some tong-it things to avoid; out of cards meaning when the deck is gone and one of the players completes their card the game is over.
Each player will count their cards, whoever has the lowest number of cards wins. Tong-it, a player can call this if one is able to drop and connect all the cards at hand. A player can call a draw if one had opened the card and thinks that the opponent has a higher point total. If a player called a draw and nobody opened then the caller wins the game. If a player has burned cards (sunog) meaning the game ended and still has not opened the cards, he has to pay the winner extra (if playing for money).

[You must be registered and logged in to see this link.]